EKWB
EK-RES X3 250 Lite
EK-RES X3 250 Lite is a cylindrical standalone reservoir, manufactured of premium quality 60mm acrylic tube and POM Acetal end caps in black color. The sealing is performed by quality EPDM rubber washers.
EK-RES X3 250 Lite reservoir is primarely made to be paired with EK-XTOP Revo Dual D5 with an enclosed EK-AF Extender Revo Dual D5 Add on. This is a small adapter fitting extender that mounts the reservoir to the EK-XTOP Revo Dual D5 and is not sold separately.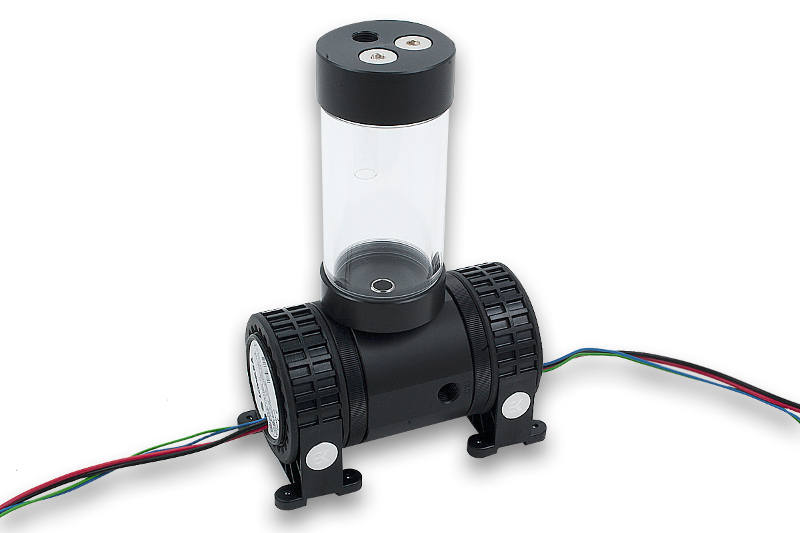 Top of the reservoir features three G1/4" treaded ports, while the bottom has one G1/4" threaded port. This allows the reservoir to be used as a standalone reservoir in various positions, such as horizontal and vertical configuration. Inner face of the top comes preinstalled with one Acrylic tube that serves as suction point in the horizontal position. Additionaly, enclosed PE foam can be used to diminish vortex occurance.
The unit comes with a pair of special holders that allow the reservoir to be installed directly on the computer chassis.
Technical data:
- Installation height: 250mm
- Diameter: 60mm
- Capacity: ~440ml
- Weight (netto): 370g

Enclosed:
- EK-RES X3 250 Lite
- Pair of EK reservoir holders with mounting screws
- EK-AF Extender Revo Dual D5 Add on
- 2 × G1/4 extenders
- 2 × G1/4 Plugs
- 1 × 6mm Allen key for plugs
- 1 × 2,5mm allen key for reservoir holders
- 1 × polyether anti-cyclon foam
---
More from this collection