EKWB
EK-RES X4 250 (R2.0)
EK-RES X4 (R2.0) is a large high-quality standalone cylindrical reservoir. The first major distinction from the RES X3 is its sheer size with 250mm in height and the use of 80mm wide borosilicate glass tube. This provides a vast volume which allows the reservoir to hold up to 0.8 liters of liquid. This updated (R2.0) version of the EK-RES X4 features a nickel plated brass pillar that holds the top and bottom part of the reservoir together. It can be disassembled much more easily as its predecessor with the enclosed Allen key.

The top and bottom are machined out of quality POM Acetal with added locking O-rings for the glass tube. This is not ordinary glass but borosilicate glass, which is known for having low thermal expansion characteristics. This makes it resistant to thermal shock and reduces material stresses caused by temperature gradients. The bottom POM Acetal part also has a prepared groove for LED strip installation. You can install almost any LED strip or you can add the enclosed white Bright Light-emitting LED strip. The position of the cable for the enclosed LED strip can be adjusted as desired and it is powered by a standard SATA power connector.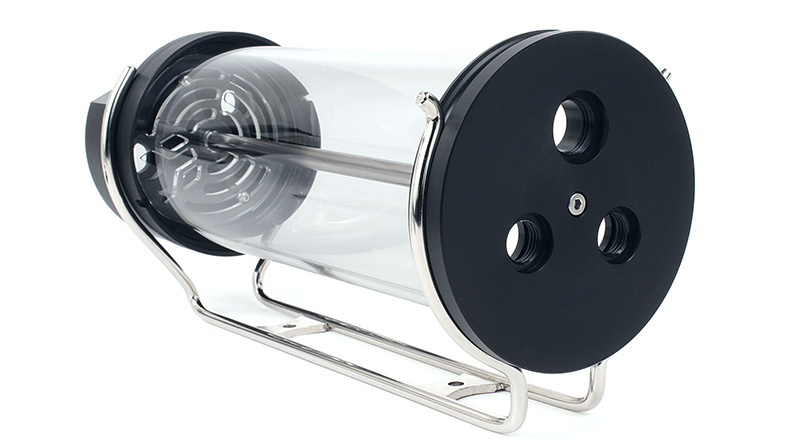 The EK-RES X4 (R2.0) has two mounting options, one for wall mount in the case, and a 120mm fan mount for a stand-up configuration. Both enclosed mounting mechanisms are made from nickel plated steel wire and offer very fast easy installation and orientation adjustment.
Furthermore, the unit is packed with multiple ports, it features a total of 8 ports! The top has two G1/4" threaded ports and one 3/8" threaded port, which is intended as a fill port. The bottom features no more than five G1/4" threaded ports - you will be able to really find the perfect orientation and port configuration! There are two front-facing ports, two at the bottom and one on the rear that can be perfect for a drain port, with or without an added ball valve.
The top POM Acetal part can be used as an inlet by using the enclosed 150mm EK-HD Tubes, that simply plug into the top and are held in place by an O-ring. Installing the hard tube prevents the effect of splashing and foaming inside the reservoir. In the case of horizontal positioning, you will be also able to utilize the EK-HD Tubes that can serve as suction and pressure ports inside the unit (as illustrated in the manual). The reservoir comes with a pre-installed flat non-restrictive Anticyclone plate at the bottom that prevents the unwanted swirling of the liquid.
The reservoir comes with a set of acetal plugs so that the thermal expansion of the material is the same throughout the reservoir parts and the plugs as well. If the user prefers nickel plugs, the G1/4 and G3/8 brass plugs can be purchased separately. 
Technical data:
- Installation height: 250mm 
- Overall diameter: Ø 98mm
- Tube diameter: Ø 80mm
- Capacity: ~850mL

Enclosed:
- EK-RES X4 250 reservoir with preinstalled Anticyclone
- Universal vertical reservoir holder 
- 120mm fan hole pattern reservoir holder
- Pair of 150mm EK-HD Tubes and O-rings
- LED light strip (SATA power plug)
- Set of acetal plugs 
- Set of extenders (2 pcs)
- Set of required Allen keys
- Necessary mounting screws, nuts, and washers
---
More from this collection